Dubied Mountain TPU Tube 27.5" x 2.0"-2.6"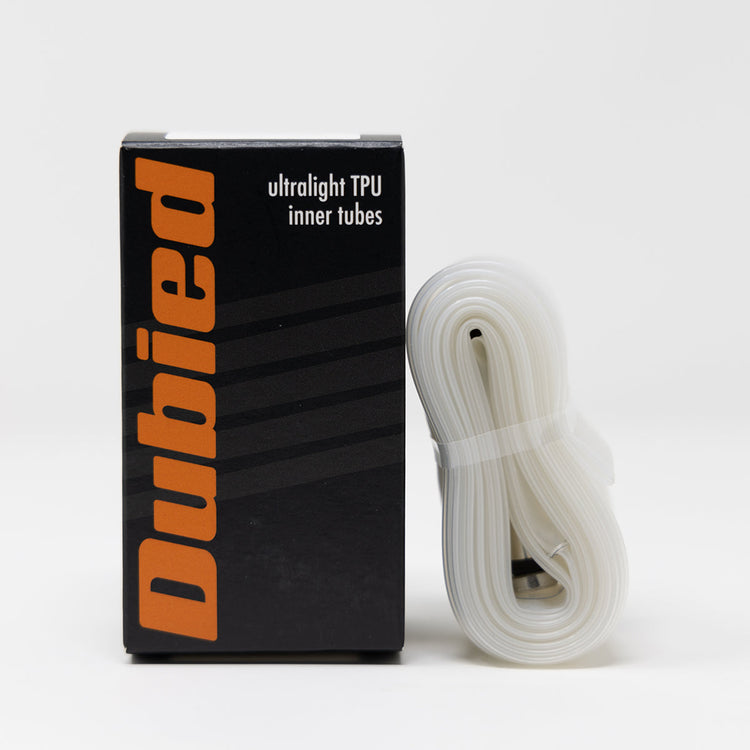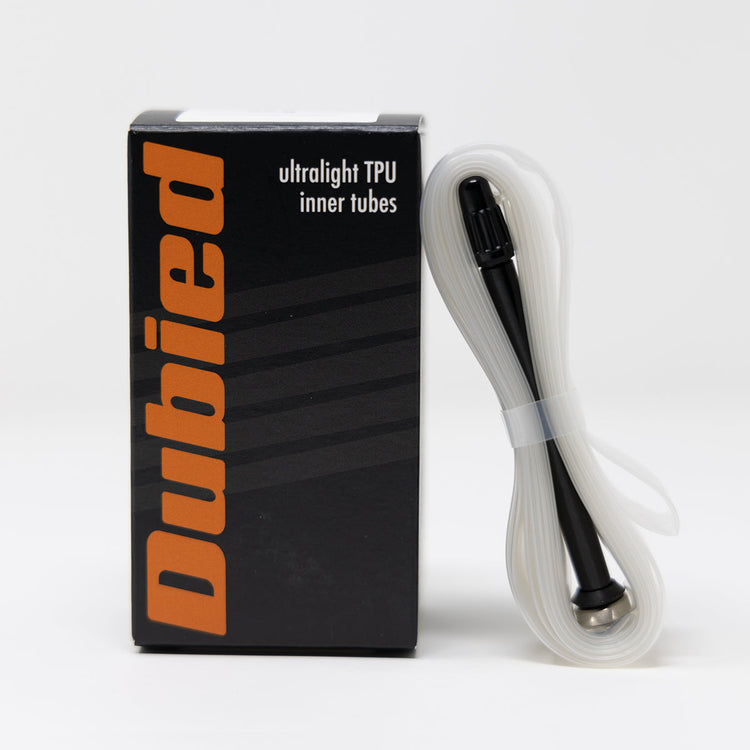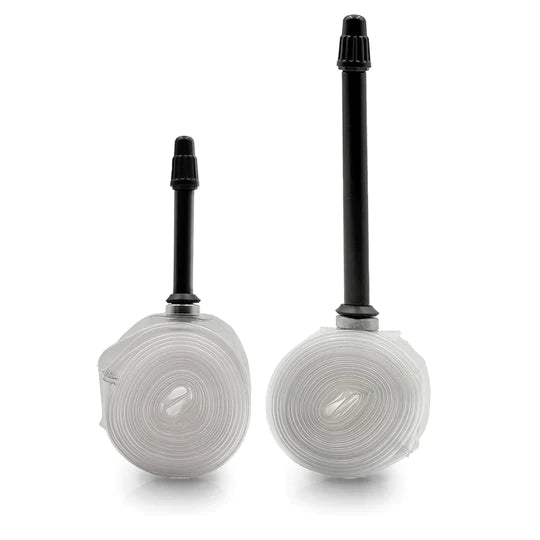 The Dubied Road is perfect for cyclists who want the best of both worlds - a super lightweight tube that's still durable and long lasting. This tube is made from premium TPU material, with a 40mm or 70mm valve length and metal valve stem.
The removable valve core means you can easily change out the valve if needed or use valve extenders to fit your rim height.
The Dubied Road fits tire size 27.5" x 2.0"-2.6" and only weighs from 62g - making it one of the lightest tubes on the market! 100% recyclable too, so you can feel good about your purchase. 
• Size: 27.5" x 2.0"-2.6"
• Weight: 40mm valve 62g; 70mm valve 63g 
• Valve Alloy: 40mm and 70mm
• Removable valve core
• 100% recyclable
• Material TPU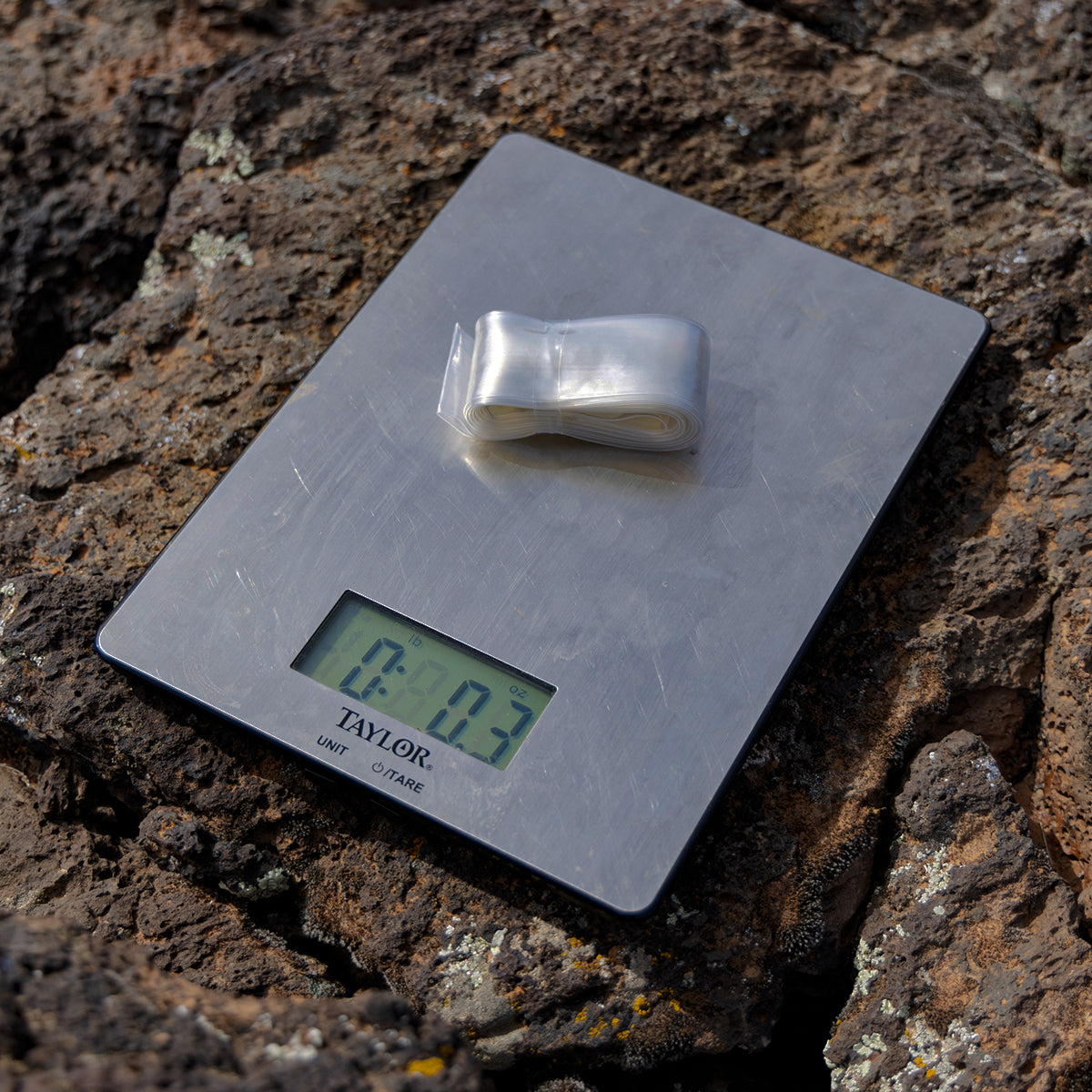 TPU BICYCLE TUBES
TPU inner tubes made their way into the inner tube market the last 10 years, and they have won over many riders quite quickly. Known for being lightweight, TPU has become a preferred inner tube option, for bikers keen on performance such as rolling resistance, acceleration, and weight.
FAQs
What exactly is TPU?

TPU - thermoplastic polyurethane has been developed first by BF Goodrich (Today Lubrizol) in 1959. It serves today as base material for e.g. high end bicycle tubes. Dubied inner tubes, which are made in Germany using High grade TPU, a patented welding process and patented valve.
What advantages does Dubied TPU inner tubes offer?

TPU tubes are extremely light, yet highly puncture resistant. The low rolling resistance offers high performance and speed. TPU retains its shape and ensures best riding characteristics on all bicycles, even at low air pressures, its dimensional stability makes it easy to install.
Are Dubied TPU inner tubes recyclable?

Yes, Dubied TPU inner tubes are 100% recyclable, as they are completely made of a thermoplastic polyurethane and a metal valve stem. This makes the recycling process easy applicable, the recycled tubes enter a second life cycle as sealing or insulation material.
ASSEMBLY QUESTIONS
How do you install Dubied TPU inner tubes?

Dubied TPU inner tubes will be installed like any other bicycle tube. Thanks to the dimensional stability of the material, the tube does not shift easily, which allows for a straightforward installation. However, outside the tire, Dubied TPU inner tubes should only be inflated up to max. 0.7 bar / 10 psi.
Why should I only inflate an Dubied TPU inner tube carefully during first installation?

Dubied TPU inner tubes expand slowly during inflation in comparison to a butyl rubber tube. Therefore, the initial expansion takes longer. When inflating an Dubied TPU inner tube outside the tire, excessive inflation (over 0,7bar/10psi) can lead to blistering of the tube. The inner tube would then no longer be usable.
May I inflate Dubied TPU inner tubes outside the tires?

An Dubied TPU inner tube may be inflated carefully outside the tire until it has no more folds and is round in shape (to max. 0.7bar/10psi).
Can I inflate Dubied inner tubes tubes using CO2 cartridges?

Yes, however, a CO2 cartridge should only be used once the tube has been fully installed. Outside the tire, we do not recommend using CO2 cartridges which are not designed for this purpose.
Can I use Dubied TPU inner tubes with sealant?

Using standard latex based sealants for tubes made of TPU is not recommended due to the certain chemical ingredients.
 Are Dubied TPU inner tubes suitable for rim brakes?

All Dubied tubes are approved for rim brakes. Dubied tubes are resistant to heat and can sustain high thermal stress (for example during emergency braking).
MAINTENANCE AND REPAIR
Can I repair Dubied TPU inner tubes?

You can easily repair Dubied TPU inner tubes using the Dubied repair patches, the self-adhesive patches are directly placed on the area to be fixed ( Do not roughen the material surface. The surface should be as clean as possible. Using cleaning alcohol is recommended to improve the adhesion of the patch. Isopropyl alcohol wipes in small sachets are included with the Dubied patches. For best results let the alcohol completely dry off before applying the patch. Overnight storage at low pressure improves the durability.
 Can I repair larger defects on the tube with Dubied Patches?

For larger holes or cuts (2-4 mm), it is recommended to apply a patch and let it seal properly overnight under pressure, the defective area should be properly cleaned alcohol patches to improve the adhesion of the patch.
Can I use classic tube patches with vulcanising fluid to repair a defect?

No. The adhesive (vulcanising liquid) is specially developed for use on (butyl) rubber and does not hold permanently on TPU inner tubes.
Can Dubied TPU inner tubes be used with repair spray?

No. Repair sprays do not achieve any sealing effect with TPU tubes because the surface tension of thermoplastic polyurethane (TPU) is very high.
What is the correct tire pressure for Dubied inner tubes?

Dubied inner tubes can be used at the same pressure as standard tubes, please refer to the recommendations of the used tire. When using Dubied inner tubes, you can apply lower pressures as recommended for tubeless tires.
What's the maximum tire pressure Dubied inner tubes can handle?

Please refer to the range of air pressure given on the side wall or rim and/or tire (the lower of these values applies). If you have any questions, please contact the rim and tire manufacturer.
How often do Dubied inner tubes need to be reinflated?

Dubied inner tubes provide similar air retention to much heavier butyl tubes and are far superior to latex inner tubes. Having to frequently re-inflate, is therefore not required. For optimal performance, air pressure should be checked regularly.
Can you take out the valve insert or use valve extensions?

The valve insert of Dubied inner tubes is screwed in and can be replaced if necessary. Therefore, the valve stem is also suitable for extensions. Tip: Extensions should ideally be fitted with threadlocker glue.
Can I use any valve insert as a replacement?

Yes, you can use standard valve inserts for Dubied inner tubes (e.g., Record valve inserts)
Can I use Dubied inner tubes with a rim that has an AV/Schrader valve hole?

An Schrader valve hole has a diameter of approx. 8.5 mm. The SV valve stem of the Dubied inner tube has a diameter of 6.5 mm. In this case, a reducer sleeve should be used, which is slid over the valve stem of the Dubied tube to hold the valve in place.
Can I use an AV (Auto/Schrader) pump adapter?

Yes, a Schrader pump adapter can be used, this must be screwed 3-4 turns onto the external thread of the valve insert.
Why does the valve base has a rubber washer on it?

The patented Dubied valve is made of brass or alloy which could cause noises while riding, therefore the rubber washer is used to prevent this happening.